I often get questions from other brides about what to putΒ on their wedding registry. I've written about this once before but felt I needed to write an update. Curating your registry takes thoughtful planning and consideration, as the items ideally shouldΒ be used and cherished for many years to come. Your guests should feel like they're spending money on something you'll actually use, and the optionsΒ should be available in all kinds of budgets for them.Β Since getting married, living in two homes, having a baby, and hosting numerous dinner parties over the past four years, I have created a lot of opinions about the items we registered for. While I think I mostly did a good job of registering, there are a few things I would have done differently had I taken the following into consideration: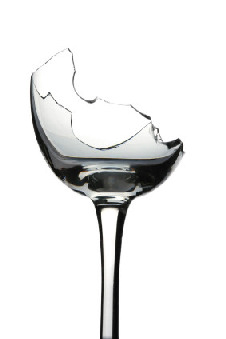 1. Crystal breaks. Doh.Β Yeah, even those crystal glasses that they market as "shatter resistant."Β I'm telling you they are NOT shatter resistant.Β We registered for a variety of the Schott Zwiesel crystal wineglasses at Williams Sonoma, and my husband and I are slowly making our way through them. I wouldn't consider ourselves to be clumsy or irresponsible people, it's just that when you using and washing something on a daily basis, you want it to be durable, and when it isn't, it breaks! Simple as that! And know that you'll be handwashing anything with a long stem if it doesn't fit into the dishwasher. When all of our glasses are broken, I plan to replace them with affordable, durable glass and acrylic stemless wineglasses that fit into the dishwasher. Places like Crate and Barrel and Target are great for finding these kinds of glasses.
2. Consider thrifting for vintage china and registering for porcelain dinnerware only. (Unless you are in love with your china pattern.)Β I still love the china pattern I registered for, but I'm also a lot more practical than I was four years ago. I think if you love theΒ china pattern you registered for and could see yourself using it regularly, go for it as I think china is really special and beautiful. But now that I've entertained a bazillion times, I find myself consistently reaching for my Apilco porcelain dinnerware as it is really durable yet still beautiful and can be dressed up with the right napkins and tablecloths. Also, now that I go antiquing and thrifting all the time, I'm realizing how many beautiful antique china plates are out there for dirt cheap. I also realize that I love the mismatched look of various vintage china plates over a matching set. Consider registering for porcelain dinnerware only and collecting vintage china over time through eBay, antique shops, consignment stores, and estate sales for an eclectic look. You'll be glad you did!
3. Nobody uses teacups. I registered for porcelain teacups and saucers thinking they would be so elegant to use to serve coffee at a dinner party. Turns out that teacups and saucers feel really stuffy, they're more work to clean, they take up more space in your cabinets and on the table, and dudes just prefer to use a mug. There's just something about a mug that encourages your guests to relax after dinner in a way that a teacup and saucer can't! If I could do it again, I would register for more basic white porcelain coffee mugs. These are my absolute favorite and are such a great size.
4.Β Not all spoons are created equal.Β We registered for this set of flatware from Pottery Barn and I still love love love it to this day. It has held up well and it is classic and beautiful. However, the spoons are Alice in Wonderland-sized (the product image is deceiving). They're ENORMOUS! So I had to buyΒ a similar looking set of teaspoons only after the wedding and I use the spoons from the PB set for cooking and serving. Check the dimensions of your flatware if possible before registering, and consider registering for a backup set of similar teaspoons if needed such as these.
5. Add a few decorative items you would not buy for yourself. Your wedding is an opportunity to receive gifts you would not typically purchase for yourself. People LOVE to gift itemsΒ like vases, bowls, pitchers, candlestick holders, and decorative jars. It feels more like a traditional "gift" than a can opener or a set of tongs, am I right? After narrowing down your style, add a few decorative pieces to your registry that you wouldn't mind adorningΒ a dining table or console in the future. You will always think of the person who gave it to you when you see it.
6. Go big or go home. When deciding on the sizes of saucepans and dutch ovens, my advice is to go BIG. No one ever makes a stir fry or a pot of chili and says, "jeez, I wish this pot were a lot smaller." No, when you have a family to feed in the future you will be glad you have that 4-quart saucepan and that 9.5-quart Le Creuset dutch oven, I'm telling you!
ShearsΒ /Β KnifeΒ / Stemless Wine Glasses /Β 4-qt. Saucepan (the best saucepan in the world!) / 9.5-qt. Cast Iron Dutch OvenΒ /Β  FlatwareΒ / White Porcelain PlatesΒ /Β Napkin RingsΒ /Β Β Lidded Ginger Jar
xoxo,